Number of synthetic marijuana cases spikes in Onondaga County
There's been a spike in the number of people heading to emergency rooms in Central New York, for treatment after using synthetic marijuana.
Christine Stork, clinical director of the Upstate New York Poison Center, knew there was a problem when she came to work last week.
"You know I went to work the other day, and they said 'there's ten synthetic marijuana cases in the emergency department.' I said like, 'oh my gosh,'" says Stork.
It turns out that was the tip of the iceberg. Upstate Poison Center averages maybe four or five cases a week resulting from synthetic marijuana use. Doctors at Upstate University Hospital saw 40 cases in 72 hours at one point last week. And there were 51 calls to the Upstate Poison Center about synthetic drug use in that time for a total of 71 for the month, through Sunday.
Emergency department physician and toxicologist Dr. Ross Sullivan says patients are coming in with a wide variety of symptoms as well, which is different from past fake marijuana users.
"They can come in very sedate. Maybe they're not breathing. We have to intubate them, or put a tube in their throat. Others are having seizures or they're having high blood pressure or high pulses, or they're violent," said Sullivan.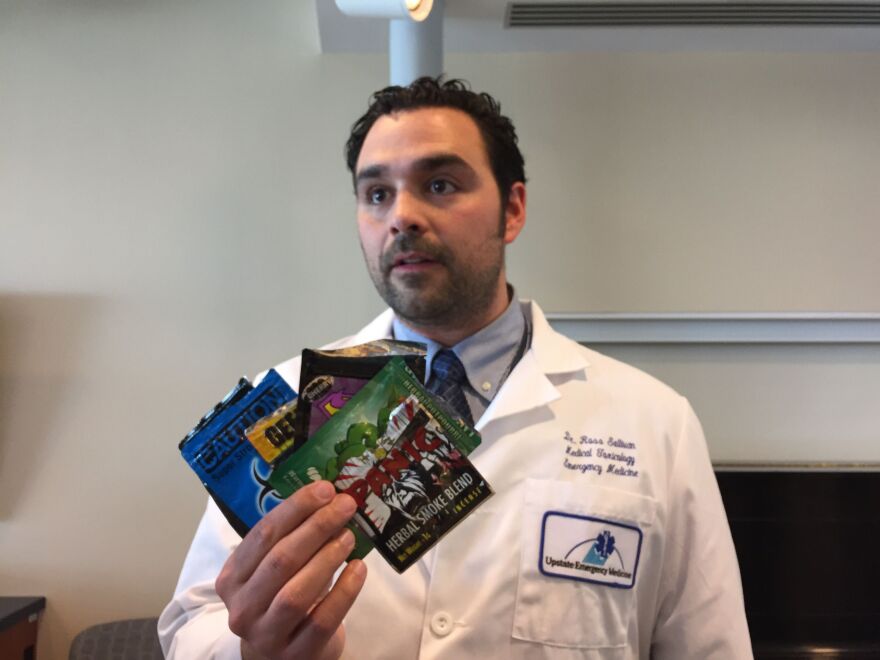 One of the problems with these drugs, often called spike or spice, is that doctors never know for sure what's in a batch. And that could be the source of this current increase, which also been seen in New York City, according to Stork.
"What we're seeing, at least I'm just guessing," said Stork. "Maybe this is bad batch -- different chemicals, something like that. They went and bought their usual stuff and they're like, oh jeez, now I don't feel well. At least that's what some of the patients are describing. I went to the same place I always go, I bought the same stuff I always buy, and here I am."
This increase in cases is limited to Onondaga County so far.