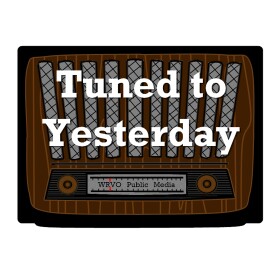 10 p.m. to midnight - Nightly
Decades ago, WRVO Public Media began broadcasting old time radio with a small collection comprising 20 reel to real tapes. Today the collection includes nearly 5,000 reels and over 16,000 broadcasts.
"Tuned to Yesterday" is public radio's premier old time radio show, hosted by Mark Lavonier. The highest quality broadcasts are restored and played as they were heard years and years ago. You'll hear programs like "The Whistler," "The Jack Benny Show," "Fibber McGee and Molly," "Edgar Bergen and Charlie McCarthy," and "Gunsmoke" -- spanning all genres.
Sitcom: Great Gildersleeve "Big Heel" 9/10/47 NBC, Duffy's Tavern 11/9/45 NBC.

Mystery: Candy Matson "Murder On a Cable Car" 7/7/49 NBC, Sherlock Holmes "Case of the Solitary Cyclist" 2/27/55 NBC.

True History: Americans at Work "The Auctioneer" 9/21/39 CBS, That Was the Year "1914" 1935 Syndicated, Treasury Salute "Dr. Walter Reed" 7/24/44 Syndicated.

Science Fiction: Dimension X "The Martian Death March" 1/14/51 NBC, Exploring Tomorrow "Flashback" 10/29/58 MBS.

Romance: Mercury Summer Theater "The Golden Honeymoon / Romeo and Juliet" 8/2/46 CBS, Romance "Heatherstone Revisited" 5/28/55 CBS.

Quiz, It Pays To Be Ignorant 3/28.47 CBS, Quiz Kids 10/3/48 NBC.

Adventure: Academy Award Theater "Foreign Correspondent" 7/24/46 CBS, Man Called X 2/12/52 NBC.

Sitcom: Father Knows Best "Directness" 2/26/53 NBC, Mel Blanc Show "Efficiency Expert" 9/10/46 CBS.

Science Fiction: X Minus One "Volpla" 8/29/57 NBC, Hallmark Playhouse "20,000 Leagues Under the Sea" 11/8/51 CBS.

Crime: Suspense "The Last Kilometer" 6/22/58 CBS, The Whistler "Tell-Tale Brand" 1/9/49 CBS.