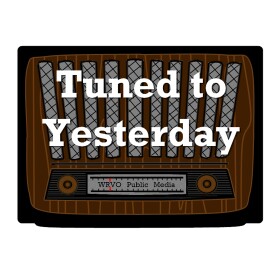 10 p.m. to midnight - Nightly
Decades ago, WRVO Public Media began broadcasting old-time radio with a small collection comprising 20 reel-to-reel tapes. Today the collection includes nearly 7,000 reels and over 20,000 broadcasts.
"Tuned to Yesterday" is public radio's premier old-time radio show, hosted by Mark Lavonier. The highest quality broadcasts are restored and played as they were heard years and years ago. You'll hear programs like "The Whistler," "The Jack Benny Show," "Fibber McGee and Molly," "Edgar Bergen and Charlie McCarthy," and "Gunsmoke" -- spanning all genres.
Western: Dr. Sixgun 10/7/54 NBC / AFRS, Gunsmoke "Cover-Up" 6/12/54 CBS.

Mystery: Bulldog Drummond "Case of the Atomic Murders" 1/17/47 MBS, Sherlock Holmes "Dying Detective" 2/13/55 NBC.

Science Fiction: Exploring Tomorrow "The Adventure of the Beauty Queen" 6/25/58 MBS, X Minus One "The Cave of Night" 2/1/56 NBC.

Sitcom: Adventures of Ozzie and Harriet "Ozzie's Short Stories" 2/27/49 NBC, Phil Harris / Alice Faye Show "The Formal Party" 10/23/49 NBC.

Horror: Fantasies from Lights Out "Reunion in Death" 7/21/45 NBC, Hermit's Cave "House on Lost Lands Bluff" 1945 Syndicated.

Drama: Hollywood Sound Stage "The Informer" 2/7/52 CBS / AFRS, The Marriage "Ben's Father Visits" 2/7/54 NBC.

Adventure: Dangerous Assignment 6/24/53 NBC, Escape "Ambassador of Poker" 4/7/50 CBS.

Comedy: Bob Hope Show 4/1/53 NBC, Jack Carson Show 6/25/47 CBS.

Crime: Counterspy "The Case of the Murdering Messenger" 8/25/49 ABC, The Whistler "A Matter of Time" 2/24/52 CBS.

Variety, Good News of 1939 "Guest: Joan Crawford" 11/17/38 NBC.