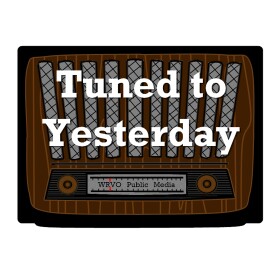 10 p.m. to midnight - Nightly
Decades ago, WRVO Public Media began broadcasting old time radio with a small collection comprising 20 reel to real tapes. Today the collection includes nearly 5,000 reels and over 16,000 broadcasts.
"Tuned to Yesterday" is public radio's premier old time radio show, hosted by Mark Lavonier. The highest quality broadcasts are restored and played as they were heard years and years ago. You'll hear programs like "The Whistler," "The Jack Benny Show," "Fibber McGee and Molly," "Edgar Bergen and Charlie McCarthy," and "Gunsmoke" -- spanning all genres.
Broadway: Mercury Theater "Seventeen" 10/16/38 CBS.

Door to Suspense #11 featuring Paula Winslowe in: Life of Riley 5/4/51 NBC, Suspense "The Cellar Door" 1/24/56 CBS.

Crime: The Whistler "A Woman's Privilege" 2/12/47 CBS, Camel Screen Guild Theater "So Evil, My Love" 1/13/49 NBC / AFRS.

Sitcom: Smiths of Hollywood "Counterfeit Money" 1/24/47 Syndicated, Halls of Ivy 4/2/52 NBC.

True History: Cavalcade of America "Port of Missing Men" 1/15/52 NBC, Encore Theater "Yellowjack" 6/18/46 CBS.

Series: The Deerslayer "Part 7 & 8" 1932 Syndicated, Frankenstein "Part 7 & 8" 1931 Syndicated.

Drama: Philip Morris Playhouse "Leona's Room" 2/25/49 CBS, Encore Theater "Nurse Edith Cavell" 8/20/46 CBS.

Sitcom: Life With Luigi "Charity Bazaar" 1951 NBC / AFRS, The Bickersons 7/10/51 CBS.

Crime: Crime Classics "Widow Magee and the Three Gypsies: A Vermont Fandango" 4/28/54 CBS, The Whisperer "Lieutenant in Danger" 7/29/51 NBC.

Western: Cisco Kid "Lincoln County Raid" later 1940's Syndicated, Fort Laramie "Nature Boy" 7/29/56 CBS.