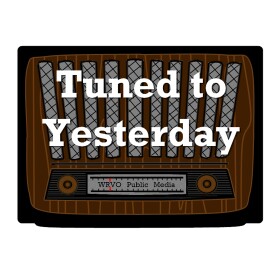 10 p.m. to midnight - Nightly
Decades ago, WRVO Public Media began broadcasting old time radio with a small collection comprising 20 reel to real tapes. Today the collection includes nearly 7,000 reels and over 20,000 broadcasts.
"Tuned to Yesterday" is public radio's premier old time radio show, hosted by Mark Lavonier. The highest quality broadcasts are restored and played as they were heard years and years ago. You'll hear programs like "The Whistler," "The Jack Benny Show," "Fibber McGee and Molly," "Edgar Bergen and Charlie McCarthy," and "Gunsmoke" -- spanning all genres.
Crime: Philip Morris Playhouse "Four Hours to Kill" 5/13/49 CBS, Adventures of the Thin Man "The Case of the Suspicious Hangover" 10/6/44 CBS.

Sitcom: Great Gildersleeve "Magazine Salesman" 2/5/47 NBC, Blondie "Blondie's Beautiful Dreamer" 6/19/44 CBS.

Adventure: First Nighter "Drink For the Damned" 3/15/48 CBS, Adventures of Christopher London "Price of Sugar" 2/26/50 NBC.

Drama: Academy Award Theater "Watch on the Rhine" 8/7/46 CBS, Humphrey Bogart Presents (audition) "Dead Man" 9/17/49 Syndicated.

Horror: Weird Circle "Lady Eleanor's Mantle" 1944 NBC Syndication, Suspense "Fugue in C Minor" 6/1/44 CBS.

Collection Curios: Meet the Menjous 1950 Syndicated, Smiley Burnette Show 1950 Syndicated, Thrills of the Highway Patrol 6/15/38 MBS, The Player 1948 Syndicated.

Crime: Black Museum "Bed Sheet" 1952 Syndicated, Crime Correspondent "The Chair For Dino" 11/4/49 CBS.

Comedy: It Pays To Be Ignorant 9/21/45 CBS, Bob Hope Show 4/7/55 NBC.

Science Fiction: Dimension X "The Lost Race" 5/20/50 NBC, X Minus One "Something For Nothing" 4/10/57 NBC.

Western: Have Gun Will Travel "My Son Must Die" 7/31/60 CBS, Gunsmoke "Chester's Murder" 1/15/55 CBS.