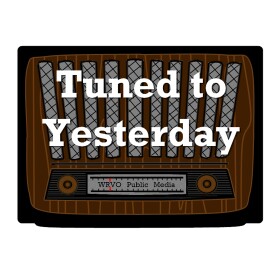 10 p.m. to midnight - Nightly
Decades ago, WRVO Public Media began broadcasting old-time radio with a small collection comprising 20 reel-to-reel tapes. Today the collection includes nearly 7,000 reels and over 20,000 broadcasts.
"Tuned to Yesterday" is public radio's premier old-time radio show, hosted by Mark Lavonier. The highest quality broadcasts are restored and played as they were heard years and years ago. You'll hear programs like "The Whistler," "The Jack Benny Show," "Fibber McGee and Molly," "Edgar Bergen and Charlie McCarthy," and "Gunsmoke" -- spanning all genres.
Drama: CBS Radio Workshop "The Endless Road" 3/17/57 CBS, On Stage "Public Furlough" 1/29/53 CBS.

Western: Gunsmoke "How to Die For Nothing" 10/10/53 CBS, Tales of the Texas Rangers "Wheelchair Killing" 10/7/51 NBC.

True History: American Adventure "The Pioneer Call" 2/2/56 NBC, You Are There "The Trial Run Of The Tom Thumb" 11/27/49 CBS.

Comedy: Judy Canova Show 11/9/43 CBS, Milton Berle Show 12/9/47 NBC.

Romance: CBS Radio Workshop "The Crazy Life" 1/27/57 CBS, Theater of Romance "Hired Wife" 9/25/45 CBS.

Crime: Dragnet "The Big fellow" 8/30/55 NBC, Mysterious Traveler "I Would Die Alone" 5/11/48 MBS.

Crime: The Line-Up 6/21/51 CBS, The Saint "Gangster District Attorney" 10/15/47 CBS.

Sitcom: A Date With Judy "The Race Track" 9/24/46 NBC, Meet Corliss Archer "Life Insurance" mid 1950's CBS / AFRS.

Horror: Suspense "Blackbeard's Ace" 4/29/62 CBS, Escape "How Love Came to Professor Guildea" 2/22/48 CBS.

Comedy: Joan Davis Time "Guest: Xavier Cugat" 3/27/48 CBS / AFRS, Judy Canova Show 3/14/44 CBS.