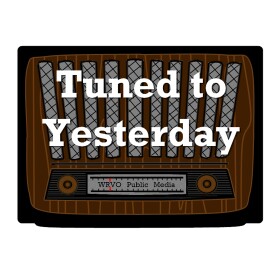 10 p.m. to midnight - Nightly
Decades ago, WRVO Public Media began broadcasting old time radio with a small collection comprising 20 reel to real tapes. Today the collection includes nearly 5,000 reels and over 16,000 broadcasts.
"Tuned to Yesterday" is public radio's premier old time radio show, hosted by Mark Lavonier. The highest quality broadcasts are restored and played as they were heard years and years ago. You'll hear programs like "The Whistler," "The Jack Benny Show," "Fibber McGee and Molly," "Edgar Bergen and Charlie McCarthy," and "Gunsmoke" -- spanning all genres.
Horror: Inner Sanctum "Auntie Ellen" 3/5/51 CBS, Quiet, Please "The Little Morning" 5/15/49 MBS.

Series: Adventures By Morse "The Cobra King Strikes Back" Part 5 5/19/46 Syndicated, One Man's Family "The Book of Teddy – Book 78 Chapter 21" 9/29/50 MBS, Yours Truly, Johnny Dollar "The Chesapeake Fraud Matter" Part 5 of 5 10/21/55 CBS.

Science Fiction: Hall of Fantasy "The Man From the Second Earth" 8/11/53 MBS, Tales of Tomorrow "The Other Now" 1/22/53 ABC.

Variety: Hollywood March of Dimes of the Air 1/24/42 NBC Blue.

Drama: Lady Esther Screen Guild Theater "The Old Lady Shows Her Medals" 10/7/46 CBS, The Marriage 2/14/54 NBC.

Sitcom: Aldrich Family "Dinner at Home" 12/9/48 NBC, Our Miss Brooks 12/3/50 CBS.

Horror: Dark Fantasy "The Thing from the Darkness" 4/3/42 NBC, Lights Out "Mungarha" 10/27/42 CBS.

Mystery: Chick Carter, Boy Detective 2/28/45 MBS, Calling All Detectives 9/24/48 WGN Chicago, Casebook of Gregory Hood "The Eloquent Corpse" 10/14/46 MBS.

Science Fiction: X Minus One "Sea Legs" 5/1/56 NBC, Exploring Tomorrow "Fair Fight" 3/12/58 MBS.

Comedy: Lux Radio Theater "Talk of the Town" 5/17/43 CBS.