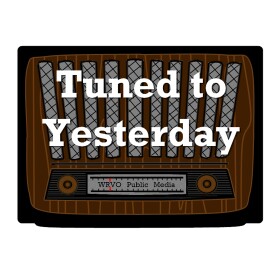 10 p.m. to midnight - Nightly
Decades ago, WRVO Public Media began broadcasting old time radio with a small collection comprising 20 reel to real tapes. Today the collection includes nearly 5,000 reels and over 16,000 broadcasts.
"Tuned to Yesterday" is public radio's premier old time radio show, hosted by Mark Lavonier. The highest quality broadcasts are restored and played as they were heard years and years ago. You'll hear programs like "The Whistler," "The Jack Benny Show," "Fibber McGee and Molly," "Edgar Bergen and Charlie McCarthy," and "Gunsmoke" -- spanning all genres.
Drama: CBS Radio Workshop "You Could Look it Up" 7/7/57 CBS, Everything for the Boys "The Petrified Forest" 1/18/44 NBC.

Science Fiction: Captain Starr of Space "Citizens on Mars" 1953 ABC, X Minus One "Hostess" 12/12/56 NBC.

Crime: Screen Director's Playhouse "The Killers" 6/25/49 NBC, Suspense "The Girl in the Powder Blue Jag" 8/28/60 CBS.

Sitcom: My Favorite Husband "Happy Birthday" 11/25/50 CBS / AFRS, Father Knows Best "Too Many Problems" 11/2/50 NBC.

Adventure: Tell It Again "Moby Dick" 6/13/48 CBS, Escape "Yellow Wake" 7/21/50 CBS.

Drama: Suspense "Dead Man's Story" 5/15/60 CBS, Night Beat 5/1/52 NBC.

Sitcom: A Day in the Life of Dennis Day 5/14/49 NBC, Duffy's Tavern "Exclusive Stars Club" 1/5/51 NBC.

Crime: Dragnet "The Big Gone" 11/30/54 NBC / AFRS, Whisperer "Fight Game" 8/12/51 NBC.

Broadway: Studio One "Hay Fever" 6/3/47 CBS.

Adventure: Chandu the Magician 3/31/49 MBS, Bold Venture "Bring Me the Body of Slate Shannon" 1951 Syndicated.