Tech Garden expansion on hold, Syracuse councilors want city to split any future profits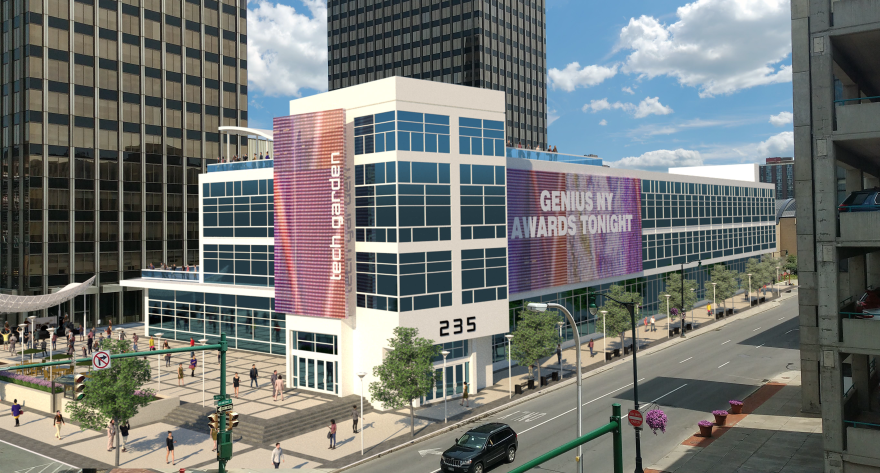 A $16 million expansion of The Tech Garden in downtown Syracuse is on hold, as city councilors question extending a long-term lease for the nonprofit. Some councilors want The Tech Garden to split revenue with the city, if it ever makes a profit.
The Tech Garden helps entrepreneurs get their startup companies off the ground. In 2019, Gov. Andrew Cuomo announced state funding for its expansion; a two-story addition on the existing building, which is owned by the city of Syracuse, to create more space for its members. The Tech Garden is a part of CenterState CEO, central New York's independent, economic development chamber of commerce.
Syracuse Councilor-at-Large Michael Greene said no one is disputing that The Tech Garden is a good asset for the city. But the question is if it makes a profit in the future, should the revenue all go to CenterState, or should it be split evenly with the city, which is leasing the property to CenterState for $1 annually?
"The city has a structural deficit and we need to find revenue when we can," Greene said.
CenterState CEO President Rob Simpson said this project is not a profit center for them, and never will be.
"Our goal is not to generate a profit," Simpson said. "We are a not-for-profit organization that is trying to do our part to build and to grow the innovation ecosystem."
But Greene asked if it's never going to be profitable, why does CenterState object to profit sharing? Simpson said if sharing profit is put into the lease, it could create an expectation that the building is designed to be commercial real estate development. The Tech Garden leases space to startups, below market value.
"One of the big pieces of pushback that we have gotten at CenterState is... about the fact that an expanded Tech Garden might somehow be utilized as competition for downtown real estate with traditional downtown businesses," Simpson said. "That is a position that we are not willing to take."
Greene said he would be happy to issue a joint press release saying the Council doesn't expect any revenue from The Tech Garden.
"There wasn't an answer to why that doesn't work," Greene said. "There's this weird position of it's never going to make money, but we don't want to share zero dollars."
Councilors question the use of a new rooftop on the building that could be used for outdoor events. Simpson said CenterState has talked to the Marriott Syracuse Downtown hotel, and other businesses, about using that space.
A spokesperson for CenterState issued the following statement.
"Even when all three floors of an expanded Tech Garden are fully occupied, it will not generate enough rental income to cover expenditures. The suggestion that this building will generate a "profit" is patently false. The Tech Garden's mission is to invest in our regions entrepreneurs and generate economic impact. We have a clear track record of doing just that. Any profit-sharing agreement specifically creates a financial incentive for the city to look to The Tech Garden and its programs as a revenue source and invites operational decisions at The Tech Garden in a way that impinges, rather than enables, our success."