Two Watertown head shops under fire for carrying 'designer drugs'
Head shops in Watertown are coming under scrutiny this week, as the New York Attorney General's office announced charges against two stores.
When you think of a head shop, you might think of a store that sells rolling papers or pipes. But Attorney General Eric Schneiderman told reporters gathered in Watertown Tuesday that several local shops have branched out — selling products that contain mind-altering substances. Those include salvia, nitrous oxide, or concentrated hemp oil.
"Some of them are specifically marketed to children, as you can see from these Heady Harvest gummy bears," Schneiderman said, "which is a dangerous drug disguised as candy."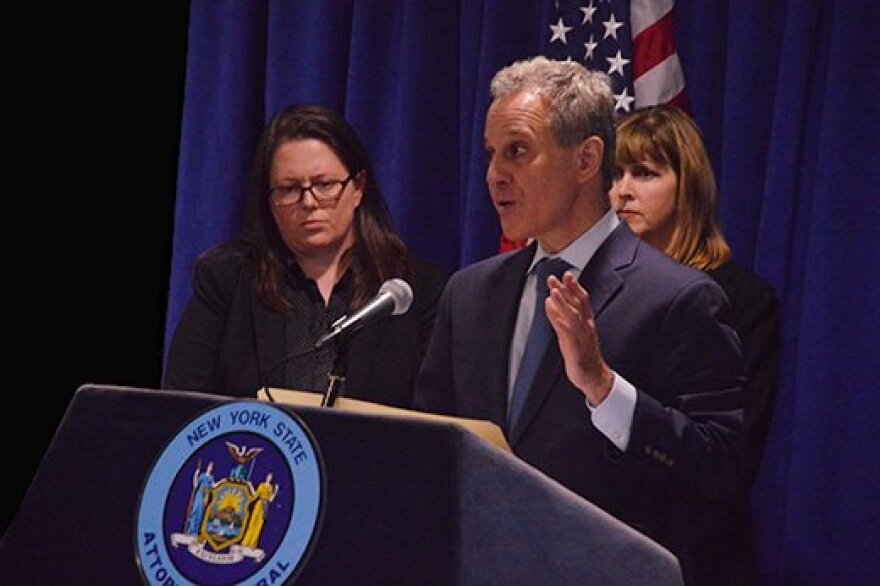 Schneiderman said that The High Life and Trip on the Wild Side II were selling products such as hemp oil gummy bears without appropriate labels. Technically, a lot of these products aren't actually illegal in New York. It's just not legal for retailers to withhold information about the side effects of what Scheniderman calls "designer drugs." They can cause severe reactions.
"In many cases, designer drugs are actually more dangerous than street drugs," Schneiderman said. "For example, synthetic marijuana is more likely to produce seizures and psychological damage than actual marijuana. We have synthetic marijuana over there."
Packaging can often conceal the fact that these products contain drugs at all, Schneiderman said, meaning that people don't always know what they're ingesting. That's caused problems in Watertown and beyond. Jefferson County's poison control line fields calls related to the use of synthetic drugs. According to a report compiled by the New York State Senate in 2016, those calls had increased 250 percent since 2011.
According to the Attorney General's office, the owner of The High Life head shop has agreed to stop selling designer drugs. He'll also pay a $35,000 fine.
Meanwhile, the owner of Trip on the Wild Side II is facing contempt charges and possible jail time. This is the second time that he's been accused of selling misbranded drugs since 2012. That's the same year Schneiderman started his "designer drug" investigation. On Tuesday, he said it's far from over.