Syverud lifts suspensions for student protesters, allows them to stay in admin building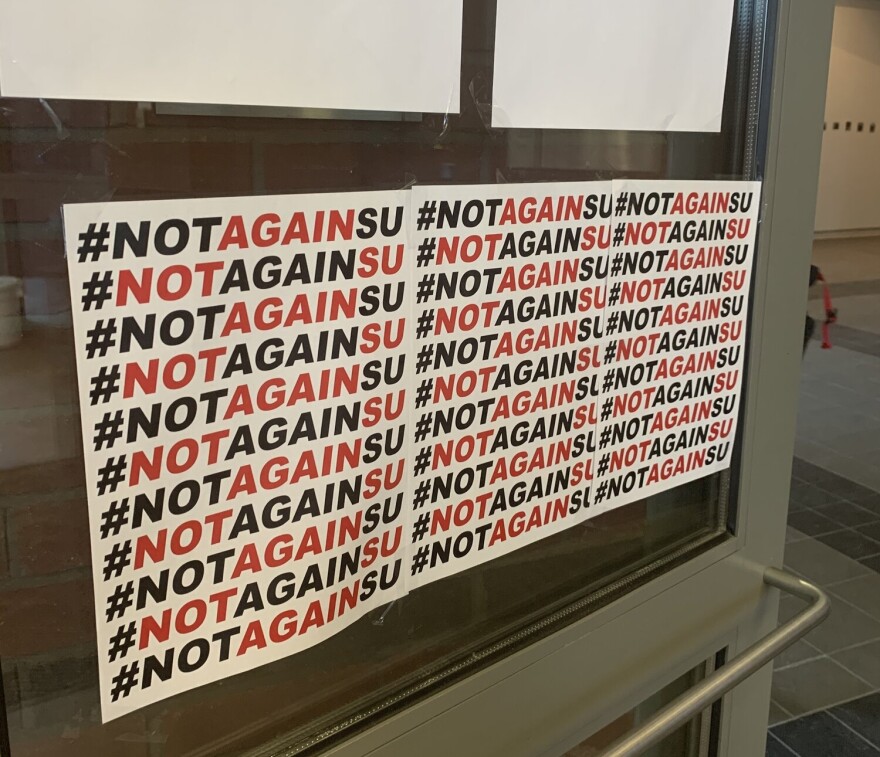 After more than two tense days of protests by a group of Syracuse University students, administration officials will allow students to remain in Crouse-Hinds Hall and will revoke the interim suspensions of more than 30 students.
The students, part of a group called #NotAgainSU, occupied Crouse-Hinds Hall Monday, after renewing their calls for Chancellor Kent Syverud and other top officials to resign over a series of racist and anti-Semitic incidents over the last several months.
Monday night, students were asked to leave Crouse-Hinds Hall at 9 p.m., when the building closed. When they refused, administrators told the students they would be suspended for violating the university Code of Conduct.
Tensions continued to rise Tuesday, when protesters outside tried to bring food to the students still inside Crouse-Hinds Hall, but were refused by Department of Public Safety officers. The building was closed, and classes moved elsewhere. Some faculty members with card access were denied entry to the building as well.
SU officials said they have tried to have a "respectful dialogue" with the students, but that the students were "unwilling." Students said they were being denied food, medicine and hygiene products, and were being treated like prisoners. Tuesday night, SU officials offered students a deal: leave Crouse-Hinds Hall by 10 p.m. and the suspensions would be revoked. They also tried to schedule a meeting between the students and officials, but said the students rejected the offer. Students said they would only agree if the assistant chief of DPS was removed from his position, and if students were granted a meeting with SU's Board of Trustees. Students said the administration refused.
On Wednesday, tensions seemed to ease. Officials allowed food and other items into Crouse-Hinds Hall for the students still there. And during a University Senate meeting, Syverud said the campus community was "on the edge."
"Our university needs to step back from the edge so we can continue the productive ongoing work to address issues of diversity, inclusion and safety that has been happening since November. We need to step back from that edge," Syverud said.
Syverud said he understood that the students are angry about the racist and hateful incidents, and that they are angry that the perpetrators haven't been punished.
But Syverud said, for the first time, that several perpetrators have been caught and punished, some this semester.
"Some perpetrators have, in fact, been found and punished, including with suspensions, including this semester, but people don't know that because our student conduct process has been kept so confidential," he said.
Syverud said students were afraid of being arrested or suspended, and he's seen enough.
"I am not going to let students be arrested and forced out of Crouse-Hinds Hall. The building is now closed. The students now there can stay there. I have directed arrangements for ensuring they are fed and cared for. I am also directing that interim suspension be lifted and the suspension procedure be stopped while we all step back," he said.
But Syverud said progress needs to be made.
"My discretion is not unlimited. It is not unconstrained. It can't continue forever. At some point, it is true that violation of the disruption policy has to have consequences that should be managed through the Code of Student Conduct. We are not at that point now. I believe we should give more time to this process," he said.
Students held a forum Wednesday night, and said they plan to continue their protest and will remain at Crouse-Hinds Hall.