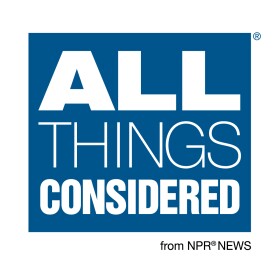 Weekdays from 4 -7 p.m.
On May 3, 1971, at 5 pm, All Things Considered debuted on 90 public radio stations.
In the more than four decades since, almost everything about the program has changed, from the hosts, producers, editors and reporters to the length of the program, the equipment used and even the audience.
However there is one thing that remains the same: each show consists of the biggest stories of the day, thoughtful commentaries, insightful features on the quirky and the mainstream in arts and life, music and entertainment, all brought alive through sound.
More information about All Things Considered is available on their website.
All Things Considered is the most listened-to, afternoon drive-time, news radio program in the country. Every weekday the two-hour show is hosted by Ailsa Chang, Mary Louise Kelly, Ari Shapiro, and Juana Summers. In 1977, ATC expanded to seven days a week with a one-hour show on Saturdays and Sundays, currently hosted by Michel Martin.
During each broadcast, stories and reports come to listeners from NPR reporters and correspondents based throughout the United States and the world. The hosts interview newsmakers and contribute their own reporting. Rounding out the mix are the disparate voices of a variety of commentators.
All Things Considered has earned many of journalism's highest honors, including the George Foster Peabody Award, the Alfred I. duPont-Columbia University Award and the Overseas Press Club Award.

The Federal Reserve is cracking down hard on inflation, in hopes of avoiding a repeat of the 1970s, when price hikes were so sustained, they got baked in to people's thinking.

NPR's Ailsa Chang talks with Chelsea Rivera, who is sheltering with her parents in Sarasota, Fla., which is about 50 miles north of where the center of Hurricane Ian hit.

Hurricane Ian is one of only a handful of storms to make landfall with sustained winds over 150 miles per hour. More than 1 million homes and businesses are without power.

Inflation watchdogs are acting to rein in runaway prices. They're hoping to avoid a re-run of the 1970s, when inflation went unchecked for so long it became harder to get prices under control.

Pop artist Lizzo stunned audiences with her performance Tuesday on a historic glass flute once owned by James Madison. The flute is currently housed in the Library of Congress.

Ukraine's counteroffensive saw many Russian forces flee advancing troops in the northeast of the country. But soldiers on the ground say it was more difficult than some headlines have portrayed it.

Disaster relief organizations are mobilizing to deliver life-saving aid and supplies to those affected by Hurricane Ian.

Montana has launched a criminal investigation after a woman bragged on social media about killing a wolf. That's legal under certain circumstances, but the "wolf' turned out to be a Siberian husky.

Officials lifted a boil water notice, but residents in Jackson, Miss., remain afraid to drink from their faucets. A water crisis left the city without clean drinking water for nearly two years.

When Cullman County, Ala., was founded in 1873, it was advertised as a place with "No Blacks and No Indians." But one of the oldest communities in Cullman County was a safe haven for Black people.