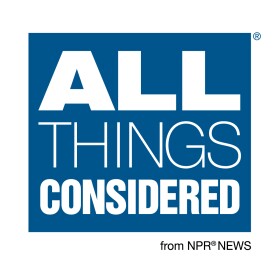 Weekdays from 4 -7 p.m.
On May 3, 1971, at 5 pm, All Things Considered debuted on 90 public radio stations.
In the more than four decades since, almost everything about the program has changed, from the hosts, producers, editors and reporters to the length of the program, the equipment used and even the audience.
However there is one thing that remains the same: each show consists of the biggest stories of the day, thoughtful commentaries, insightful features on the quirky and the mainstream in arts and life, music and entertainment, all brought alive through sound.
More information about All Things Considered is available on their website.
All Things Considered is the most listened-to, afternoon drive-time, news radio program in the country. Every weekday the two-hour show is hosted by Ailsa Chang, Mary Louise Kelly, Ari Shapiro, and Juana Summers. In 1977, ATC expanded to seven days a week with a one-hour show on Saturdays and Sundays, currently hosted by Michel Martin.
During each broadcast, stories and reports come to listeners from NPR reporters and correspondents based throughout the United States and the world. The hosts interview newsmakers and contribute their own reporting. Rounding out the mix are the disparate voices of a variety of commentators.
All Things Considered has earned many of journalism's highest honors, including the George Foster Peabody Award, the Alfred I. duPont-Columbia University Award and the Overseas Press Club Award.

Black women love the outdoors as much as anyone else. Groups such as Outdoorsy Black Women and Black Packers are helping them explore and enjoy the outdoors.

With winter settled in, going outside means frigid temperatures, early darkness and rain or snow. That can make it hard to get out to exercise. NPR's Life Kit has tips on how to work out in the cold.

The U.S. helped broker a $20 billion deal to transition Indonesia to renewables from coal. International observers are excited, but inside Indonesia, there are doubts about the deal.

Alzheimer's and other forms of dementia leave seniors at risk for financial mismanagement and exploitation. With few regulatory safeguards, it falls on families to monitor the risk and intervene.

Microsoft announced on Tuesday that its powerful AI tool ChatGPT will now be used in its search service Bing. Google unveiled its own AI tool — a competitor to ChatGPT — roughly 24 hours before.

NPR's Ailsa Chang talks with Gonul Tol, director of the Turkey program at the Middle East Institute, about conditions on the ground in the Hatay province in southeastern Turkey.

Hundreds of thousands take to the streets again in France as they protest President Emanuel Macron's proposal to raise the country's retirement age.

Social media posts are offering a glimpse of the aftermath of deadly earthquake that hit Syria.

NPR correspondents who cover the White House and Capitol Hill talk about what to expect from Tuesday's State of the Union address.

Artificial intelligence has advanced enough to create a seemingly original artwork in the style of living artists within minutes. Some artists argue that these AI models breach copyright law.