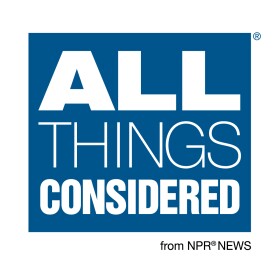 Weekdays from 4 -7 p.m.
On May 3, 1971, at 5 pm, All Things Considered debuted on 90 public radio stations.
In the more than four decades since, almost everything about the program has changed, from the hosts, producers, editors and reporters to the length of the program, the equipment used and even the audience.
However there is one thing that remains the same: each show consists of the biggest stories of the day, thoughtful commentaries, insightful features on the quirky and the mainstream in arts and life, music and entertainment, all brought alive through sound.
More information about All Things Considered is available on their website.
All Things Considered is the most listened-to, afternoon drive-time, news radio program in the country. Every weekday the two-hour show is hosted by Audie Cornish, Ailsa Chang, Mary Louise Kelly and Ari Shapiro. In 1977, ATC expanded to seven days a week with a one-hour show on Saturdays and Sundays, currently hosted by Michel Martin.
During each broadcast, stories and reports come to listeners from NPR reporters and correspondents based throughout the United States and the world. The hosts interview newsmakers and contribute their own reporting. Rounding out the mix are the disparate voices of a variety of commentators.
All Things Considered has earned many of journalism's highest honors, including the George Foster Peabody Award, the Alfred I. duPont-Columbia University Award and the Overseas Press Club Award.
Royal is only the third Black dancer to be promoted to principal at the American Ballet Theatre — which is even more impressive when you know he didn't begin training in ballet until he was 14.

NPR's Kelsey Snell talks to big wave surfer Garrett McNamara about the new HBO documentary series 100 Foot Wave.

NPR's Kelsey Snell speaks with Harvard history professor Gabriela Soto Laveaga about her recent op-ed titled, "Every American needs to take a history of Mexico class."

Mexico is holding a referendum on whether to put past presidents on trial for graft, corruption and other crimes. But some critics are calling it a farce.

At the Tokyo Olympics, one of the marquee events took place: the men's 100-meter sprint. It's been dominated by Usain Bolt the past three Olympics. But the gregarious sprinter wasn't there this year.

NPR's Kelsey Snell speaks with Deven McGraw, cofounder of consumer health data firm Ciitizen, to clear up misconceptions about HIPAA rules and protections.

NPR's Kelsey Snell speaks with Dr. Rhea Boyd about some of the misconceptions around unvaccinated Americans and her effort to reach them in underserved communities.

Saunders said she's been open about her mental health struggles so others don't feel alone. It's also why she wears her identities so proudly as a gay Black woman.

Welcome 2 America, the first posthumous album from Prince after his death in 2016, was released Friday.

NPR's Kelsey Snell speaks with Dr. Faisal Khan, acting director for the St. Louis County health department, about the abusive treatment he says he's received as a result of doing his job.