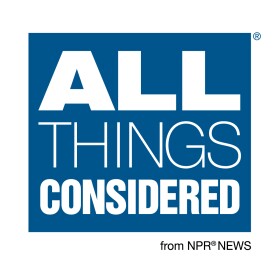 Weekdays from 4 -7 p.m.
On May 3, 1971, at 5 pm, All Things Considered debuted on 90 public radio stations.
In the more than four decades since, almost everything about the program has changed, from the hosts, producers, editors and reporters to the length of the program, the equipment used and even the audience.
However there is one thing that remains the same: each show consists of the biggest stories of the day, thoughtful commentaries, insightful features on the quirky and the mainstream in arts and life, music and entertainment, all brought alive through sound.
More information about All Things Considered is available on their website.
All Things Considered is the most listened-to, afternoon drive-time, news radio program in the country. Every weekday the two-hour show is hosted by Audie Cornish, Ailsa Chang, Mary Louise Kelly and Ari Shapiro. In 1977, ATC expanded to seven days a week with a one-hour show on Saturdays and Sundays, currently hosted by Michel Martin.
During each broadcast, stories and reports come to listeners from NPR reporters and correspondents based throughout the United States and the world. The hosts interview newsmakers and contribute their own reporting. Rounding out the mix are the disparate voices of a variety of commentators.
All Things Considered has earned many of journalism's highest honors, including the George Foster Peabody Award, the Alfred I. duPont-Columbia University Award and the Overseas Press Club Award.
NPR's Ari Shapiro talks with Zoe Schiffer, senior reporter at The Verge, about the latest developments surrounding Netflix and company accountability.

The U.S. Veterans Secretary visited a Los Angeles encampment to discuss veteran homelessness. Officials have made similar promises before, but little progress has happened in the last five years.

North Carolina is a swing state with a Senate seat coming open. On the Republican side, former President Donald Trump made an early endorsement, seeming to set the positioning for the GOP hopefuls.

The mayor of Seville, Spain, has announced a new program — the world's first — to give official names to severe heat waves. The hope is that such a system will make people take them more seriously.

NPR's Sarah McCammon talks with Dr. Hyung Chun, professor of cardiology at Yale and senior author of a study in COVID breakthrough cases, on vaccine misinformation following the death of Colin Powell.

NPR's Sarah McCammon talks with Brian Vines, a reporter for Consumer Reports, about the current popularity in dollar stores and why it has some communities worried.

NPR's Ari Shapiro speaks with Washington State Congresswoman Pramila Jayapal about negotiations with President Biden over the infrastructure bill and reconciliation package.

U.S. colleges are restarting study abroad programs after a year of cancellations brought by the pandemic. But the virus and travel restrictions have added new hurdles to an already complex process.

In Maine, EMTs and paramedics are part of the COVID vaccine mandate for health care workers. The deadline is looming, and some ambulance crews say coworkers have quit rather than get vaccinated.

Even with government assistance and other efforts, more than 55% of Black and Latino households reported serious financial problems, compared with 29% of white households.