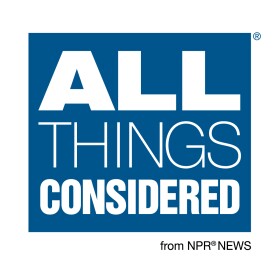 Weekdays from 4 -7 p.m.
On May 3, 1971, at 5 pm, All Things Considered debuted on 90 public radio stations.
In the more than four decades since, almost everything about the program has changed, from the hosts, producers, editors and reporters to the length of the program, the equipment used and even the audience.
However there is one thing that remains the same: each show consists of the biggest stories of the day, thoughtful commentaries, insightful features on the quirky and the mainstream in arts and life, music and entertainment, all brought alive through sound.
More information about All Things Considered is available on their website.
All Things Considered is the most listened-to, afternoon drive-time, news radio program in the country. Every weekday the two-hour show is hosted by Ailsa Chang, Mary Louise Kelly, Ari Shapiro, and Juana Summers. In 1977, ATC expanded to seven days a week with a one-hour show on Saturdays and Sundays, currently hosted by Michel Martin.
During each broadcast, stories and reports come to listeners from NPR reporters and correspondents based throughout the United States and the world. The hosts interview newsmakers and contribute their own reporting. Rounding out the mix are the disparate voices of a variety of commentators.
All Things Considered has earned many of journalism's highest honors, including the George Foster Peabody Award, the Alfred I. duPont-Columbia University Award and the Overseas Press Club Award.

NPR's Michel Martin speaks with Sallie Krawcheck, CEO and co-founder of Ellevest, about the company's 2022 survey of women's financial health.

With hurricane-force winds, Fiona has left hundreds of thousands of utility customers along Canada's Atlantic coast without electricity. It is one of the most powerful storms to ever hit the region.

NPR's Michel Martin speaks with documentary filmmaker Abigail Disney, granddaughter of Disney co-founder Roy Disney, about her new film, The American Dream and Other Fairy Tales.

Italians head to the polls Sunday in what could be a pivotal election with far-right candidate Giorgia Meloni poised to be Italy's first female prime minister.

NPR's Michel Martin speaks with Lori Pbert, a member of the U.S. Preventive Services Taskforce about the draft recommendation that doctors should screen all adults under the age of 65 for anxiety.

NPR's Michel Martin speaks with filmmaker and actor Tyler Perry about his new movie, A Jazzman's Blues.

Mark Bittman discusses his newly revised and updated cookbook How to Cook Everything Fast.

Russian men are fleeing the country to avoid being forced into the military and the war in Ukraine. Many are going to Turkey, where they do not need a visa to enter.

NPR's Ari Shapiro talks with journalists Taylor Moore and Erin McCormick, who analyzed thousands of Chicago water tests which yielded "shocking" results published in an investigation in The Guardian.

Executive produced by Oprah Winfrey, directed by Reginald Hudlin and supported by Poitier's surviving family, Apple TV+'s documentary Sidney details the life of actor-director-activist Sidney Poitier.