How much do bass fishing tournaments hurt the fish?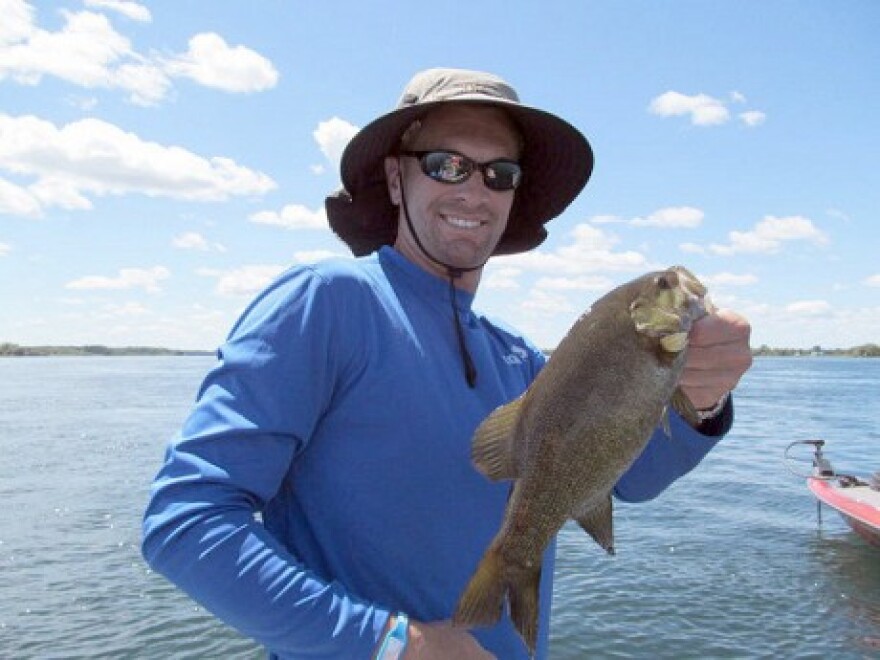 Last summer, the country's top professional anglers were catching hundreds of pounds of Bass in the St. Lawrence River for the Bassmasters Elite tournament. Elite series officials deemed it a big success. A study found it generated $1-3 million for the region.
But are tournaments like Bassmasters Elite bad for the fish?
The number of catch-and-release tournaments on the St. Lawrence, Lake Champlain, Black Lake, and other bodies of water has been increasing. Years of research has led to protocols and rules that protect fish stock. But a team of researchers at Lake Champlain Sea Grant has found it does indeed stress out the fish, and it can take them months to recover.
Mark Malchoff and the team at Lake Champlain Sea Grant know their fish. Even in their conference room at SUNY Plattsburgh, there are two aquariums, one with a large mouth Bass in it, and another with a Bowfin and a Bullhead.
Malchoff, describes the bass in a tank as looking like he's thinking that he should be fed. "Reminds me of my wife's dog at home."
Of course, bass like to eat, especially when they're offered ever more attractive and irresistible lures the Bassmasters industry comes up with.
Malchoff and his team wanted to know more about what happens to fish during and after a tournament, questions such as: "How far are Bass being transported? Do they disperse once they're released from the tournament venue?"
Malchoff started hanging around bass tournaments based in Cumberland Bay, right near Plattsburgh. The team tagged more than 2,000 fish. Malchoff says the bass tended to stockpile where tournament organizers released them.
"By stockpile, I mean they hang out in Cumberland Bay where they are released for a few weeks," Malchoff says. "And then slowly, they move out."
It can be two months before the bulk of the fish start leaving the bay.
"They may not be going back to their point of capture," Malchoff says, "but they are moving to suitable habitat in other areas of the lake."
In fact, some that were caught in the southern section of Lake Champlain may not be able to make it back because bass -- particularly large mouth -- are shallow water swimmers and there's no shallow route to get there.
Malchoff says this period of stockpiling makes for an unusually large number of big, mature fish close to shore. And that makes them vulnerable to people just fishing along the lakeshore.
"If you're bringing large numbers of tournament class fish to a particular locale," he explains, "there is going to be a higher level of exploitation on those individual fish in the short run."
The research also found the bass showed more signs of stress the longer they were in live wells and the warmer the temperature of the water in the live well.
In fact, water temperature is crucial for these tournaments to avoid large-scale fish mortality. In warmer waters, like in the South in summer, mortality rates can exceed 50 percent. And this is borne out in years of research, Malchoff says.
"They know that water temperature is key, and usually the kind of water temperature we're dealing with on Lake Champlain or the St. Lawrence River, for example, it's going to preclude any problems. But not always. Every few years, you're going to get a fish kill out of these things."
Malchoff's team laid out a series of recommendations to guide tournament organizers, like measures to promote shorter time in the live well, plenty of shade and water pumps at the weigh-in site, and choosing a release site further from the shore.
The bigger tournaments, like the Elite Series, are more likely to be ahead of the curve, Malchoff says, than more local club events. "Often these folks don't have the equipment or the level of expertise to pay attention those details."
Bass tournaments are huge recreational events in the North Country. They're also big economic drivers during the summer in places like Plattsburgh and Ogdensburg. Malchoff says he hopes his research will help those events continue while protecting the fish populations they rely on.