Car Donation Program
Do you have an unused car, truck, boat, or SUV taking up valuable space? Perhaps you have learned it will cost more to fix your car than it's worth. Looking for a tax deduction at the end of the year? Then consider donating your vehicle to WRVO Public Media. When you donate a vehicle to WRVO, you get a tax deduction (to the extent allowed by law) and WRVO gets proceeds from the sale.
Need more information about vehicle donations, tax benefits or your responsibilities as a donor?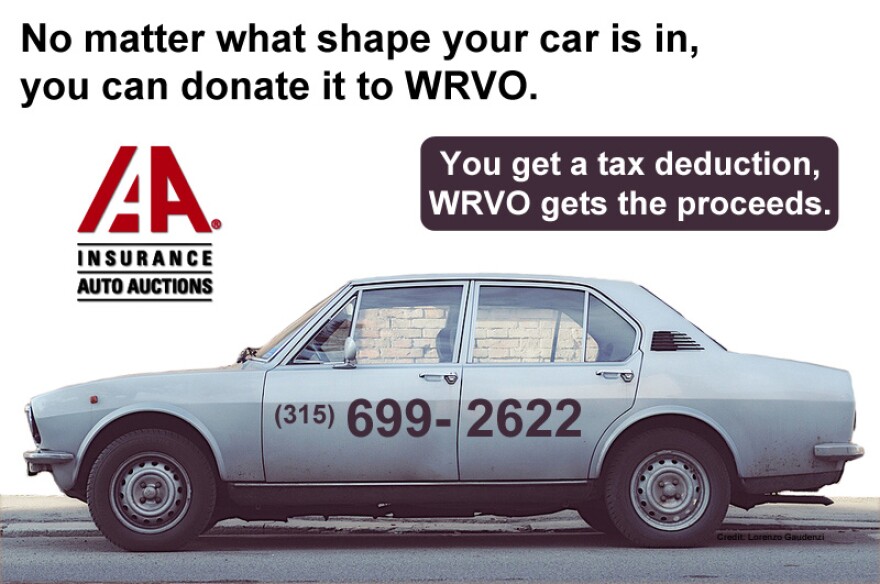 Your vehicle donation will be turned into great NPR news and information programming like "Morning Edition" or "All Things Considered." Cars, trucks, boats, RVs, campers, construction equipment, and farm equipment are welcome. In most cases your vehicle will be picked up at your location free of charge.
Here's how it works:
Call Insurance Auto Auctions at (315) 699-2622;
Tell them you'd like to donate a vehicle on behalf of WRVO;
They will arrange to pick up and auction your vehicle at a time convenient for you;
WRVO is notified by the auctioneer when your vehicle is sold;
We send you an acknowledgement letter within 30 days of receiving notification of the sale (the form you receive can serve as your 1098C for tax purposes).