Congress Faces Record Disapproval Rating; Chile Sees Violent Protests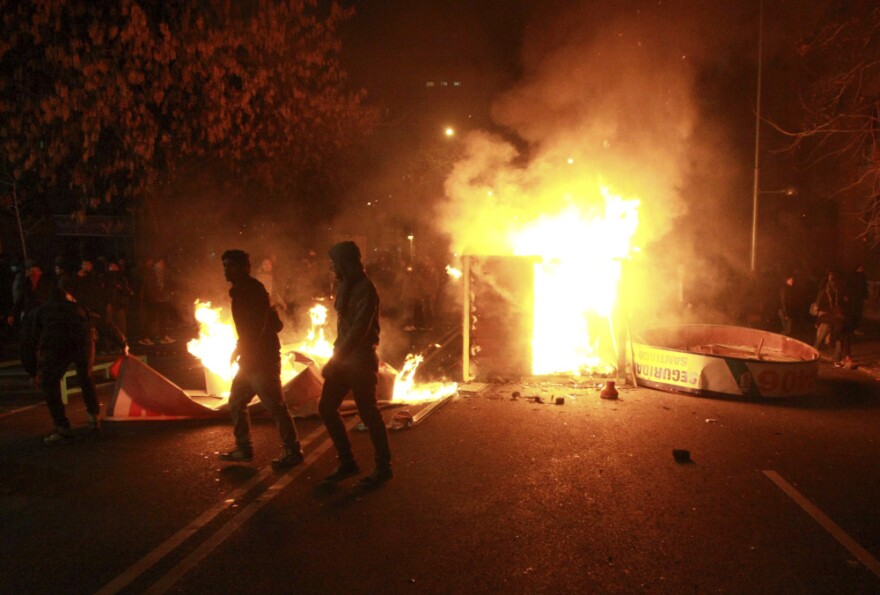 Good morning!
We've already touched on the big news of the day: The early plummet of the world markets in reaction to yesterday's dismal performance of the U.S. markets. We also covered the better-than-expected jobs report that buoyed the world markets and have positioned U.S markets to open higher.
With that, here are some other stories making headlines:
-- Congress Disapproval Rating Hits Record Highs: The New York Times reports that in the latest New York Times/CBS News Poll the American people expressed a record high disapproval rating for Congress. The Times pins the blame on the discordant debate to raise the debt ceiling:
A record 82 percent of Americans now disapprove of the way Congress is handling its job — the most since The Times first began asking the question in 1977, and even more than after another political stalemate led to a shutdown of the federal government in 1995.
More than four out of five people surveyed said that the recent debt-ceiling debate was more about gaining political advantage than about doing what is best for the country. Nearly three-quarters said that the debate had harmed the image of the United States in the world.
-- As Emily Disintegrates, Chance Of Floods For Haiti: CNN reports: "Heavy rain and potential flooding threatened hundreds of thousands of Haitians living in temporary quarters early Friday as the remnants of Tropical Storm Emily made a final stand across the central Caribbean."
The storm could dump 6 to 12 inches of rain on the island and the National Hurricane Center says it has a 60 percent chance of regenerating and threatening the Eastern Seaboard.
-- Violent Protests In Chile: "Protesters have clashed violently with police in Chile's capital to decry President Sebastián Pinera's policies, as a poll showed him to be the least popular leader in the two decades since the Augusto Pinochet dictatorship." (The Guardian)
-- Questions About Melting Arctic Ice: Scientists say concerns over what experts have described as a "tipping point" in which the Arctic sea loses its ice may be misplaced. The BBC reports:
Writing in the journal Science, the team found evidence that ice levels were about 50% lower 5,000 years ago.
They say changes to wind systems can slow down the rate of melting.
They argue, therefore, that a tipping point under current scenarios is unlikely.
-- Mattel Ordered To Pay $310 Million In Bratz Case: "A federal judge ordered toy giant Mattel Inc. to pay bitter rival MGA Entertainment Inc. more than $309 million in damages, fees and other costs in the long-running dispute over the billion-dollar Bratz doll line and rejected Mattel's bid for a new trial." (The Los Angeles Times)
Copyright 2021 NPR. To see more, visit https://www.npr.org.