Post-Standard unveils new workspace to go with new digital emphasis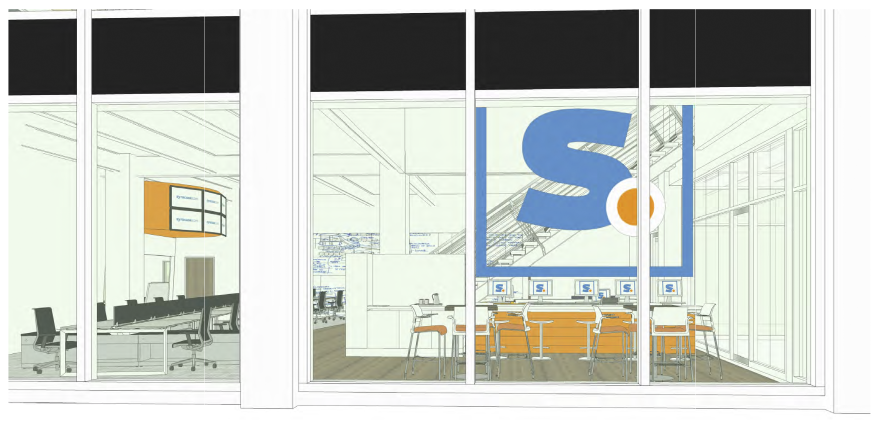 In less than two weeks, the Post-Standard as central New York knows it takes a turn toward the future as it cuts back on print editions of the newspaper in favor of a digital website. The new Syracuse Media Group, which includes the reporting and sales sides of the digitally-focused business, will soon be working out of a renovated bank on South Warren Street.
Years ago, the old Merchants and Snow building on South Warren Street was where reporters for the Syracuse Newspapers would cash their checks. Starting this spring, it will be the base for a band of digital journalists working for the new Syracuse Media Group. And company chairman Steven Rogers says the new offices in the renovated Merchants Commons will reflect the new digital world.
"There are no desks, there are no cubicles. There are reporters and sales people. They have their smart phone, they have their laptop, they have their backpack," said Rogers.
Rogers says reporters will be able to file their stories on the fly, without having to be tied to a desk. These stories will be filed on Syracuse.com and some of them in a pared-down print edition. Tim Kennedy, president of the Syracuse Media Group, says moving the news and sales staff away from the Post-Standard Building on Clinton Square was done intentionally.
"There was a time when it was really important to be next to the presses, but in this digital world, we don't need to be that close," said Kennedy.
Kennedy says the 28,000 square foot space with an open floor plan is part of an investment into the new world of digital journalism.
"If you look at the space we're in now, this is a substantial investment in the facility, we're making a substantial investment in our people, in training, in new systems, in new equipment. It's a big investment in journalism and the future of this business," said Kennedy.
The company is keeping the Post-Standard Building, it will continue to house the presses and other support functions for the media group. It will be renting out the former sales and newsroom space.
"The Post-Standard will be published and circulated out of the existing building. We have all the support functions for the media group there -- HR, IT, accounting," said Rogers.
The Post-Standard will cut back delivery of print editions to three days a week starting February 3, and the other days there will be a limited print edition for sale in Onondaga County.