0000017a-3c50-d913-abfe-bd54a8ce0000Stay up-to-date with the latest 2020 election news from NPR and WRVO. [Note] Please refresh this page as it will be automatically updated daily throughout the election year.
Live fact check and analysis: October Democratic debate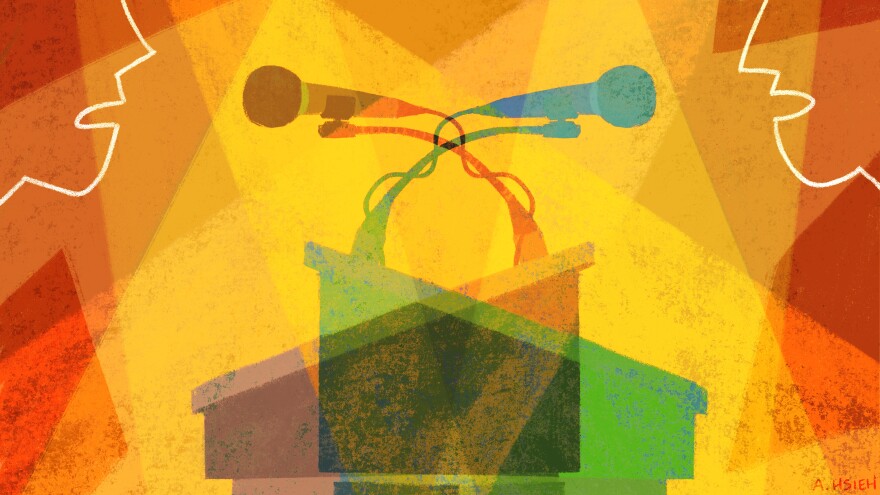 Twelve Democratic candidates have taken the stage in Ohio for their fourth debate. They're all vying for the Democratic nomination for president and much has changed since the last time the candidates met: former Vice President Joe Biden and Sen. Elizabeth Warren, D-Mass., are now co-front-runners; Bernie Sanders suffered a heart attack; the impeachment inquiry against President Donald Trump is in full swing; and more.
Here are answers to some questions you may be asking ahead of the debate.
Join WRVO on-air and online for live coverage starting at 8 p.m. for this CNN/New York Times Democratic debate, hosted by Audie Cornish. She'll be joined for analysis from NPR Senior Political Editor and Correspondent Domenico Montanaro and Political Correspondent Asma Khalid. You can also listen with the WRVO app or ask your smart speaker to "Play WRVO."
Tonight's debate includes: Former Vice President Joe Biden; New Jersey Sen. Cory Booker; South Bend, Ind., Mayor Pete Buttigieg; former HUD Secretary Julián Castro; Hawaii Rep. Tulsi Gabbard; California Sen. Kamala Harris; Minnesota Sen. Amy Klobuchar; former Texas Rep. Beto O'Rourke; Vermont Sen. Bernie Sanders; billionaire investor and activist Tom Steyer; Massachusetts Sen. Elizabeth Warren; and entrepreneur Andrew Yang.
You can find live fact checking and analysis here (below) during the debate. Catch up on where the candidates stand before the debate with NPR's special series covering the issues.