0000017a-3c50-d913-abfe-bd54a8ce0000Stay up-to-date with the latest 2020 election news from NPR and WRVO. [Note] Please refresh this page as it will be automatically updated daily throughout the election year.
Live coverage: Democratic National Convention, Tuesday, August 18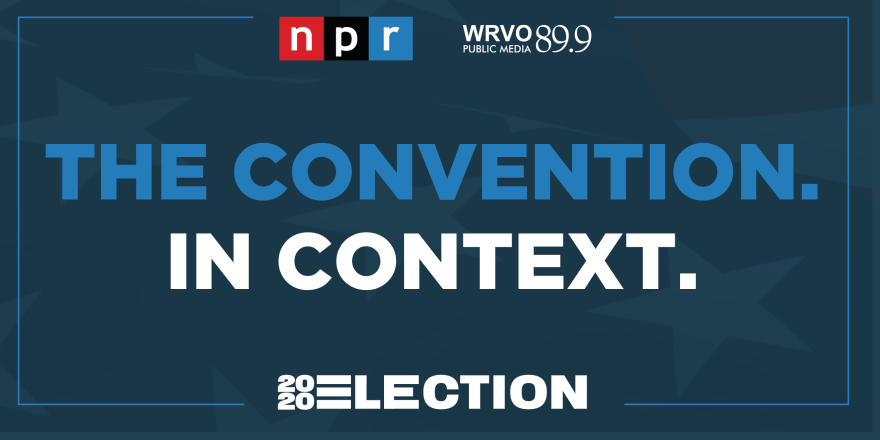 NPR and WRVO's live special coverage of the Democratic National Convention continues tonight, Tuesday, August 18. Listen on-air and online from 9 – 11:30 p.m. EST with live analysis from NPR's Lulu Garcia-Navarro and Scott Simon.
NPR will also provide a liveblog analysis of the convention, available below. Tuesday's speakers include -- New York Rep. Alexandria Ocasio-Cortez, former President Bill Clinton and Dr. Jill Biden. Coverage of the convention continues nightly through Thursday, August 20.
Donald Trump didn't create the initial division. The division created Trump. He only made it worse. - NY Governor Andrew Cuomo
New York Gov. Andrew Cuomo was one of the speakers at last night's virtual event. He spoke of New York's struggles overcoming the coronavirus, and why he thinks former Vice President Joe Biden needs to win in November. Michelle Obama also delivered a blistering indictment on President Trump's policies and ability to lead. In one of the few live speaches, Vermont Senator Bernie Sanders layed out an existenial choice for progressives. There was a lot to digest from the first night of the convention and NPR has "7 Takeaways." You can also catch up on more from last night with NPR's liveblog below.