Tom Reed wins 23rd Congressional District, easily beats Tompkins County Democrat
Incumbent Rep. Tom Reed heads back to Washington after a win against Democrat Martha Robertson in New York's 23rd Congressional District.
The newly reelected congressman wiped away a few tears as he greeted supporters in Corning on Tuesday. Reed returns to the House after what turned out to be a comfortable victory over Democrat Martha Robertson.
Early in the race, the Reed and Robertson campaigns both flooded voters with negative advertising. Reed portrayed Robertson as a far-out liberal, and she accused him of corruption. Now that the results are in, Reed is leaving all that behind.
"We're going to focus on creating jobs. It's all about creating jobs, creating opportunities for generations to come," says Reed.
And, echoing a line spoken by many Republicans this election, Reed may even be ready to find common ground with his opposition.
"And there's areas we can agree upon," Reed said. "Like advanced manufacturing is something we can do."
Reed had a $1 million fundraising advantage over Robertson, who spent about $2 million on her campaign. The national Democrats also pulled $500,000 from her campaign late in the race.
Robertson, a former chair of the Tompkins County Legislature from the Town of Dryden, gave her concession speech just two hours after the polls closed.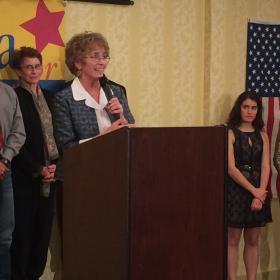 "We believe it's only right that, if you work full-time, you should be able to feed your family and keep a roof over your head," Robertson said. "We believe that the senior citizens of today and tomorrow deserve to retire with dignity. And we know that we can build an economy that includes everyone."
She easily won her home county, which includes heavily Democratic Ithaca, but was unable to compete anywhere else in the district.
Reed's reelection adds to considerable Republican gains in the U.S. House, and a Republican takeover of the Senate this election.