Buckner sworn in as new Syracuse police chief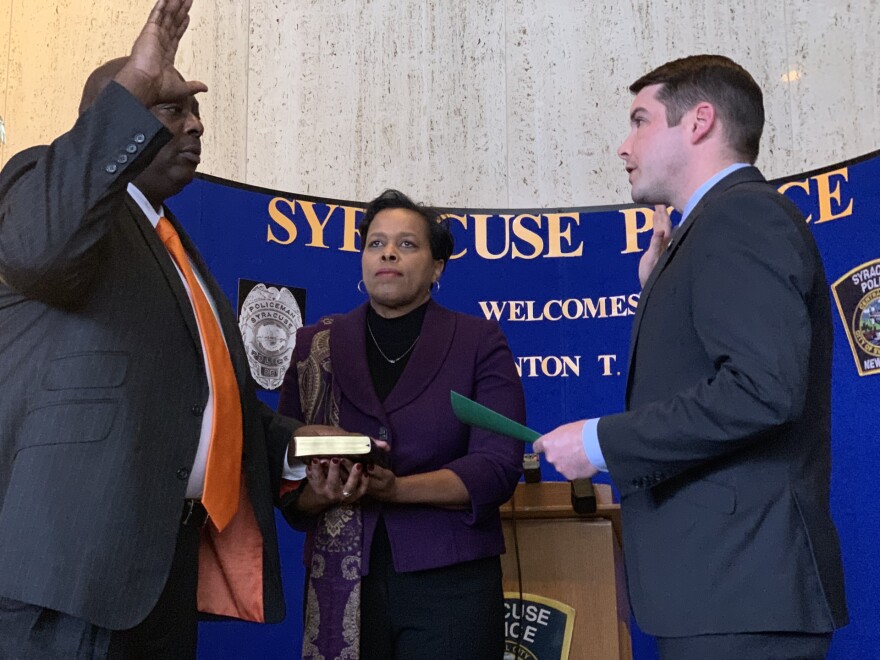 Syracuse's new police chief said Monday that he's ready to get to work. Kenton Buckner, who previously served as chief of police in Little Rock, Arkansas, was sworn in as Syracuse's chief Monday morning.
Buckner was visibly emotional as he spoke to a packed lobby in the Public Safety Building downtown Syracuse.
"I'm very thankful for the city of Syracuse for selecting me," Buckner said. "As you can see, law enforcement, if I were to give you something that you would be able to qualify what it means to me, I would liken it to your wife and kids."
But Buckner said this is an important time in the city of Syracuse, as well as communities across the country.
"We are at a tipping point," he said. "We are either going to become a city that fulfills our possibilities, or we are going to turn in a direction that will continue some of the frustrations that I've read and seen about some of the things you have with your public safety issues that are going on, which are some of the same things you see going on across the country."
He says he has three goals as he takes over the department. Reducing violent crime, strengthening relationship with community and hiring more minority police officers. He expects his first week to be full of meetings and he will start a top down evaluation of the department.
He said he has one request of the public.
"When we're right, I ask that you support us. When we're wrong I ask that you hold us accountable. I ask that you do both with the same amount of energy, and I plan to do the same thing for our officers."
Buckner replaces Chief Frank Fowler, who retired last week after nearly 30 years with the department, the last nine as chief.