State energy plan that would support nuclear plants gets warm welcome in Oswego
During nearly two hours of testimony in Oswego City Hall Tuesday, community leaders and Nine Mile Point Nuclear Plant employees begged staff from New York's Public Service Commission to support the proposed "clean energy standard" under Gov. Andrew Cuomo's goal to generate half of the state's energy from renewable sources, like wind and solar, by 2030.
That plan includes subsidies for financially stressed nuclear plants, which is why most of the audience at the hearing spoke in favor of the effort. Some who testified said that Cuomo's goal to reduce greenhouse gas emissions could not be achieved without nuclear plants, which don't emit carbon dioxide.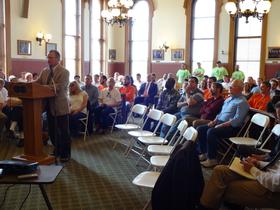 Michael Treadwell, director of Oswego County's Industrial Development Agency and the Upstate Energy Jobs coalition, voices his support for the clean energy standard during a Public Service Commission hearing in Oswego.
Credit Payne Horning / WRVO News
"Gov. Cuomo's energy goals, the foundation of his environmental legacy, will not be achieved without the inclusion of each and every one of our upstate nuclear power plants," said Kevin Caraccioli, the city attorney for Oswego and Scriba.
Others used an emotional appeal.
"My name is Sue Birch. I was born and raised in Oswego and have chosen to raise my family here," Birch said while holding back tears. "I am very fortunate to be an employee at Nine Mile Point, something that we're all very proud of. Nine Mile Point supports our community in so many ways."
Nine Mile officials have said its plant is financially under water and may have to shut down, like the neighboring James A. Fitzpatrick plant that is slated for closure in January. At the hearing, Central and Northern New York State Sen. Patty Ritchie's representative presented a petition of 4,000 signatures from people who support the FitzPatrick plant's continued operation.
Still, some New Yorkers are opposed to subsidizing nuclear power, which they consider dirty and dangerous. The PSC will vote on the Reforming our Energy Vision (REV) plan, which encompasses the clean energy standard, later this summer.