Stay up to date with the latest news on the coronavirus and COVID-19, the disease caused by the coronavirus. We'll post regular updates from NPR and regional news from the WRVO newsroom. You can also find updates on our live blog.
NY DOT hands I-81 plans over to feds for approval before final decision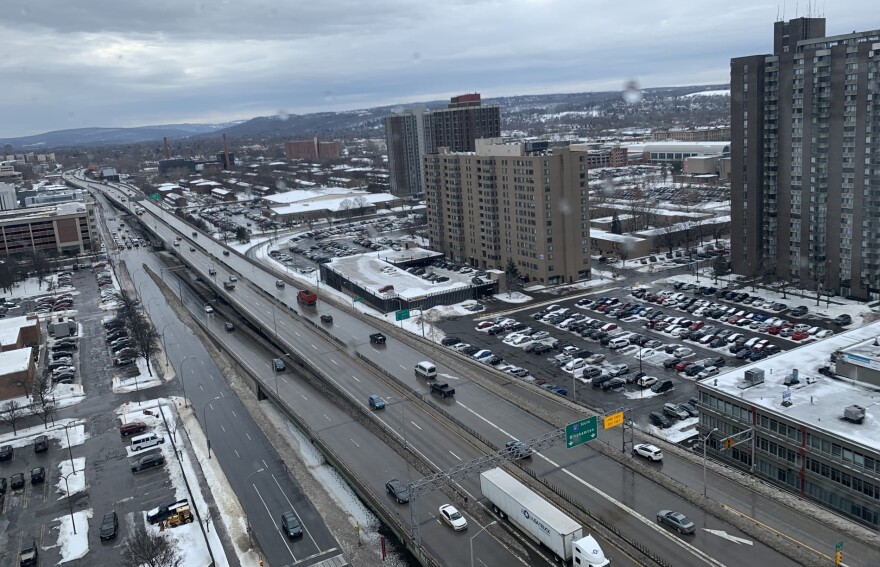 The New York State Department of Transportation has submitted its draft environmental impact statement on the I-81 reconstruction project, through the city of Syracuse, to the Federal Highway Administration for review. It's a project state officials have been working on since 2013. The federal agency needs to sign off on the document, so it can be released to the public.
I-81 Project Director Mark Frechette said the process now is to build consensus between the state DOT and the Federal Highway Administration.
"It's all about getting the right answers and the best solution, before construction starts," Frechette said. "What we just turned over, there could be some changes to that. That's what we need to go through."
Last year, state DOT selected the street-level community grid as its preferred option to replace a mile of the elevated I-81 viaduct in downtown Syracuse. A larger elevated highway is also viable, just not preferred. It would cost more, take longer to construct, and would destroy more buildings than the community grid. A tunnel option was thrown out because of construction concerns and cost.
Once the draft environmental impact statement is approved by federal officials, it will be made public, and a 45-day comment period will begin, which will include a public hearing. Frechette said it's another opportunity to hear from people and talk to them about any changes to the project.
"There's still time to take into consideration what we get back from the public," Frechette said.
DOT received more than 1,000 comments last year, which were incorporated into the draft environmental impact statement. Frechette said it's difficult to predict a timeframe moving forward, because of the COVID-19 pandemic.
"We've got to figure out how to host a large public hearing, before we release the environmental impact statement," Frechette said.
After the public comment period, a final environmental impact statement and record of decision, will be made.
The central New York community has been divided over how to best replace the I-81 viaduct, which has reached the end of its useful life. Syracuse residents tend to favor the community grid, while suburban residents tend to prefer keeping high-speed access through the city.