Show your support of WRVO, literally
It's called S.W.A.G. -- as in stuff we all get, but only if you donate to WRVO Public Media during the fall fundaiser. Here's a look at some of the premiums we're offering this year. You can select each premium on our online web form, or let our volunteers know that you're interested on the phone when you call (800) 341-3690.
The New WRVO Baseball Cap
For a contribution of $150, we can thank you by sending one of our brand new WRVO Public Media hats.
It's a low-profile, heavy brushed twill hat that has a form fit Velcro closure on the back. Our logo is featured in blue and gray on the front.
It's a great (and not to mention comfortable) way to show your support for WRVO. And think about it -- a $150 donation figures out to just $12.50 a month.
Support WRVO, and look good doing it.
Smart Phone Sticky Wallet
You can turn your smart phone into a wallet with a $60 donation!
This silicon wallet is black, holds about three plastic cards (like your license, credit card or student ID) and features our logo in white. The wallet sticks right to your phone or case and can be removed without leaving a mark -- we tested it.
It's a great way to conveniently hold a few cards while you're on the go, and show support for your favorite public radio program. This $60 contribution is basically $5 per month. We're worth $5 per month, right?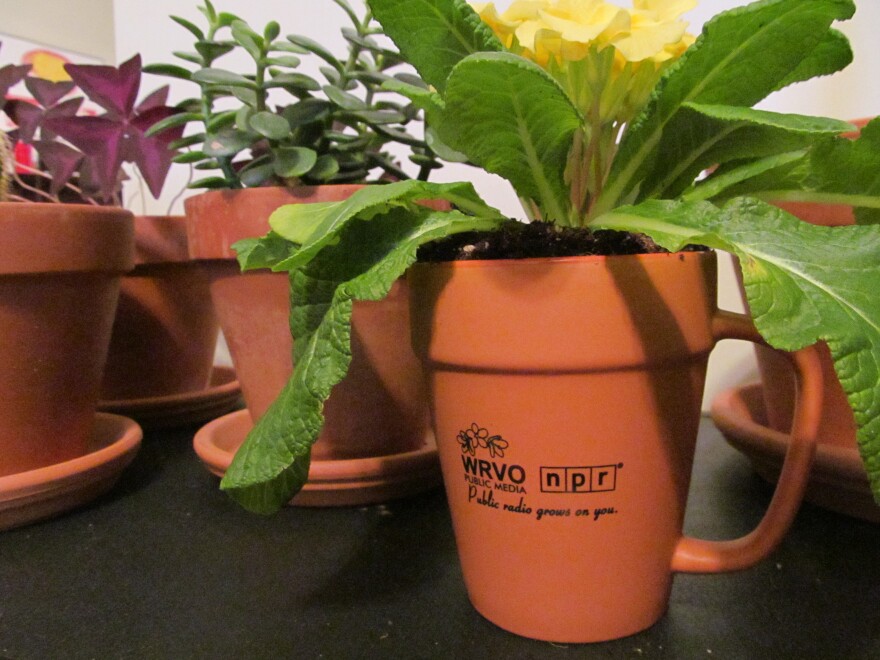 The WRVO Terra Cotta Mug
Introduced this spring, during our fundraiser, the WRVO terra cotta mug doubles as a fun planter. With a handle big enough for all four of you fingers, the mug holds plenty of coffee. Use it for your spices, or your spiced pumpkin latte. With a $150 contribution, the terra cotta mug is yours.