Coverage of the 2016 presidential election from NPR News and related blogs, including candidate profiles, interviews and talking points.On-air specials will also be broadcast as Election Day approaches, including the Iowa caucus and New Hampshire primary.WRVO also provides coverage of regional elections both on-air and online.
Sanders supporters rally ahead of candidate's upstate campaign swing
Over one hundred Bernie Sanders supporters marched through downtown Syracuse Saturday. They rallied together with music and several chants in support of the Democratic presidential candidate.
Many of the marchers were young college students, a demographic Sanders has gathered large support from. But there were also plenty who are middle-aged locals, like Beth Totten.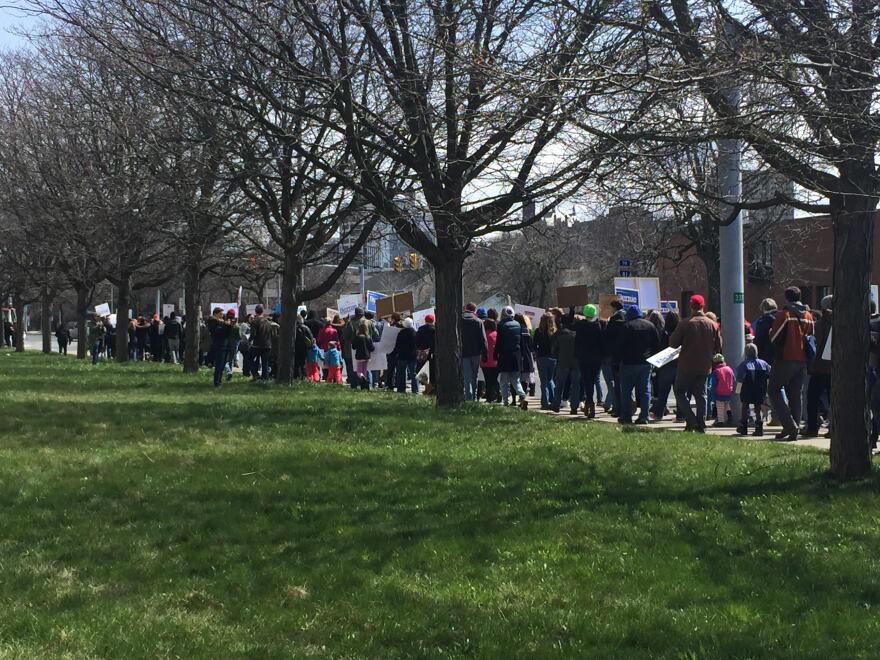 "I believe he's going to bring jobs back, he's going to do a universal health care system; he's really the guy we need leading us. He is very truthful, I mean even the pope loves him, right?" said Totten.
She also says she understands why so many students stand behind Sanders.
"We've had three kids that we've help put through college, and they're left with really high debt," said Totten.
Andrea Jensen is a college student at Onondaga Community College, and said she thinks Sanders appeals to many young voters in the area.
"And Bernie is really the only one that has reached out to youth and youth problems, he's made us think about our futures. Whereas other candidates have really only thought about how America's future can benefit the greater economic circle or big corporations and that just doesn't touch home," said Jensen.
Sanders is making a campaign swing through upstate Monday and Tuesday. He'll travel to Binghamton, Buffalo, Rochester and Albany. His final stop will be a rally at the OncenterinSsyracuse Tuesday afternoon.
Recent polls of likely Democratic voters in New York state show Hillary Clinton with double-digit leads over Sanders. New York's presidential primary is April 19.