Residents prepare for legal fight over proposed gas storage facility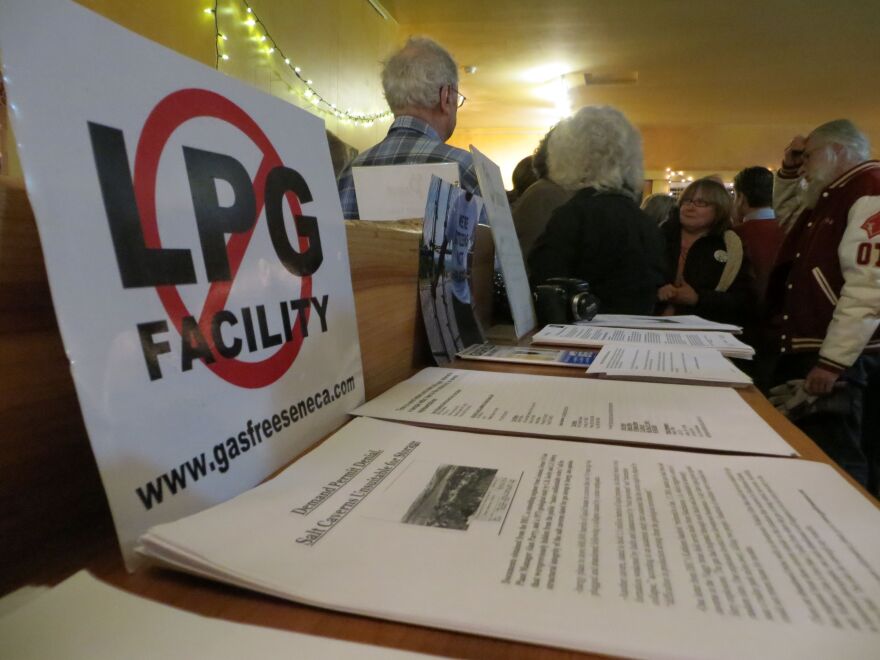 Opponents of a proposed underground gas storage facility near Seneca Lake are ramping up for a legal fight as a decision on the project nears.
Dozens of residents gathered at a winery near Watkins Glen recently to say hello to their new lawyers. These are people worried about a plan to store some two million barrels of butane and propane in a nearby salt cavern. Their new attorneys are from Earthjustice, self-described as the nation's leading nonprofit environmental law firm. The anticipated fight is against Kansas-based Inergy, which bought the US Salt plant here in 2008.
The last flurry of activity surrounding this proposal happened at a public hearing held over a year ago. Since then, Inergy has been working to satisfy several requests for information from the New York State Department of Environmental Conservation.
The DEC says there is not a strict timeline for completing the next step -- a final environmental impact statement. But Joseph Campbell with the group Gas Free Seneca thinks a decision is just around the corner.
"We believe that there's a lot of interest in higher government levels in this project going forward, and we're very concerned that it could happen relatively soon," said Campbell.
Deborah Goldberg with Earthjustice's Northeast office explains why the firm thinks this case is important.
"All of Earthjustice's regions try to find the most important issues, and to protect the most important places where they work. And the Finger Lakes is a very special place in New York state, and we want to make sure that it isn't destroyed by the petroleum industry -- whether it's fracking or whether its liquid petroleum gas," said Goldberg.
Meanwhile, a spokesperson for Inergy reiterates that similar projects have been operating safely in the region for over 50 years. But opponents say none of those are on the same scale or as close to a lake as this one.